Who is Nick Corona?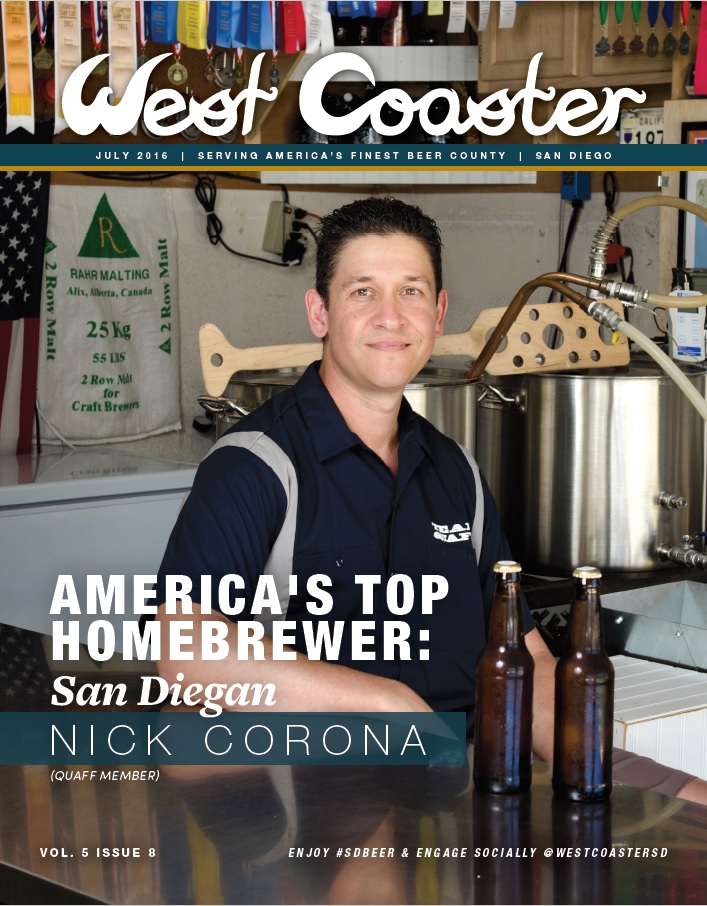 From his first sip of Maharaja in 2012, Nick's passion was realized & his goal became instantly centered around learning the craft and striving to perfect the art of brewing with intentions of one day opening his own brewery. Anyone who knows Nick, knows that once he sets his mind to something, it's all or nothing. Nick ordered a small homebrew kit, tinkering around for a year before he jumped into a larger automated all grain system. His beers seemed to improve, but Nick soon realized that his friends and family just didn't have the heart to give him honest, unbiased feedback. Nick soon found what he was searching for in competition brewing. He could submit bottles anonymously and have his beers critiqued by certified beer judges.
In 2013 at the San Diego County Fair, Nick won his first awards; a 4th place ribbon in the German Wheat category and a 5th place ribbon in the Wood Aged beer category. Those first two ribbons set the stage for an exciting competition run that exceeded even Nick's expectations. During this run, Nick would go on to win four homebrewing titles, 8 Best of Show wins, and hundreds of ribbons and medals at the national, state, & local levels. Nick also became the first homebrewer in the world to win Best of Show at both national homebrew competitions (NHC and Masters Championship of Amateur Brewing).
Nick has gone on to brew his recipes at Lightning Brewery in Poway, Hangar 24 Brewery in Redlands, Green Flash Brewery in San Diego, Indian Joe Brewing in Vista, Duckfoot Brewing in Miramar, and Ladyface Ale Companie in Agoura Hills.
[expand title="National  Wins" tag="h2″ trigclass="arrowleft"]
2018 NHC First Round – 1st Place Weissbier (Co-brewer Kandy Corona)
2018 NHC First Round – 1st Place IPA (Co-brewer Kandy Corona)
2018 NHC First Round – 1st Place American Pale Ale (Co-brewer Kandy Corona)
2017 MCAB Final Round – 1st Place & Best of Show Weissbier (Co-brewer Kandy Corona)
2017 NHC Finals – 3rd Place Belgian Golden Strong (Co-brewed with Kandy Corona)
2017 NHC First Round – 3rd Place Irish Red (Co-brewed with Kandy Corona)
2017 NHC First Round – 3rd Place Belgian Golden Strong (Co-brewed with Kandy Corona)
2016 NHC Finals – 1st Place & Best of Show Weissbier
2016 NHC First Round – 1st Place Barrel Aged Cherry Cider
2016 NHC First Round – 2nd Place Weissbier
2016 MCAB Final Round – 1st Place Irish Red
2016 MCAB Final Round – 2nd Place IPA
2016 MCAB Final Round – 3rd Place Weissbier
2015 NHC First Round – 1st Place American Wheat
2015 NHC First Round – 3rd Place Vienna Lager
[/expand]
[expand title="State Wins" tag="h2″ trigclass="arrowleft"]
2018 CA State Fair – 1st Place Weissbier
2018 CA State Fair – 1st Place Biere de Garde
2018 CA State Fair – 3rd Place Double IPA
2017 CA State – 1st Place American Wheat
2017 CA State – 1st Place Dunkels Bock
2017 CA State – 1st Place Weissbier
2017 CA State – 1st Place Double IPA
2017 CA State – 1st Place Belgian Golden Strong
2017 CA State – 2nd Place IPA
2017 CA State – 2nd Place Biere de Garde
2017 CA State – 2nd Place Scottish Export
2017 CA State – 2nd Place Sweet Stout
2017 CA State – 3rd Place International Amber Lager
2017 CA State – 3rd Place Best Bitter
2017 CA State – 3rd Place English Brown
2017 CA State – 3rd Place Wee Heavy
2017 CA State – 3rd Place American Pale Ale
2017 CA State – 3rd Place Fruit Beer
2017 CA State Fair – 1st Place Biere de Garde
2017 CA State Fair – 1st Place Irish Red
2017 CA State Fair – 1st Place American Pale Ale
2017 CA State Fair – 2nd Place Double IPA
2017 CA State Fair – 2nd Place International Amber Lager
2017 CA State Fair – 3rd Place Fruit Beer
2016 CA State Fair – 1st Place Irish Red
2016 CA State Fair – 1st Place Spice, Herb, Vegetable
2016 CA State Fair – 1st Place Weissbier
2016 CA State Fair – 2nd Place English Brown
2016 CA State Fair – 3rd Place Strong Bitter
2016 CA State Fair – 3rd Place Belgian Blond
2016 CA State Fair – 3rd Place Specialty Cider/Perry
2015 CA State Fair – 1st American Wheat
2015 CA State Fair – 1st Place Weissbier
2015 CA State Fair – 3rd Place English Brown
2015 CA State Fair – 3rd Place Fruit Beer
2014 CA State Fair – 3rd Place Weissbier
[/expand]